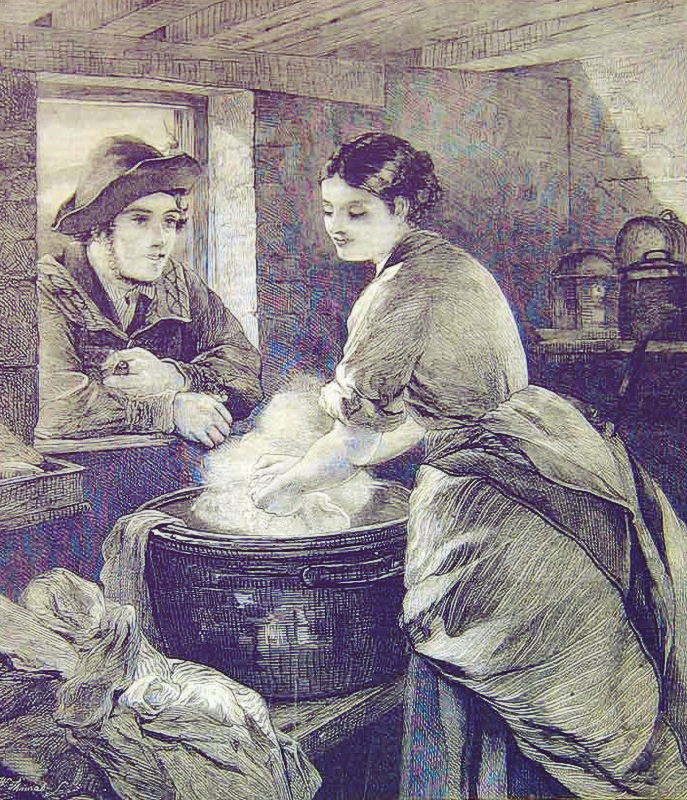 In the next few posts, I would like to share with you my favorite and most indispensable herbs – the ones I can't do without, either in the garden or in the kitchen.
The title of this post refers to the traditional British ballad 'Scarborough Fair', made famous in the 1960's by Simon & Garfunkel among others. Notable modern versions include a 'doom metal' rendition by My Dying Bride!
The song relates the tale of a young man who instructs the listener to tell his former love to perform for him a series of impossible tasks, such as making him a shirt without a seam and then washing it in a dry well, adding that if she completes these tasks he will take her back. Often the song is sung as a duet, with the woman then giving her lover a series of equally impossible tasks, promising to give him his seamless shirt once he has finished. Doesn't sound like a great offer to me!
All that aside, choosing and growing herbs such as parsley, sage, rosemary and thyme should be such an easy task, but many people I meet are just plain confused, due to the number of varieties of each herb. Hopefully I can help by explaining what is available, how different varieties grow and can be used in your garden, and how to use them in your kitchen.
This first post will tackle parsley, the wonder herb! If you only grow one herb, this is the one that I would choose.
Growing parsley
Parsley is a biennial plant in temperate climates, or an annual herb in subtropical and tropical areas. As a biennial, it grows bright green leaves in the first year, and then flowers in the second year, setting seed and normally dying after the seed matures. This is why many people are disappointed when their parsley dies in the second year – they want to keep it growing, so try to stop it flowering by cutting off the flower spikes.
You need to let the plant flower and throw its seed to ensure that you get new plants for next year. You won't be able to interrupt its growth cycle, no matter how hard you try – it badly WANTS to flower and set seed! The only way to ensure a continuous supply of fresh parsley is to plant a new plant each year for two years and let them both flower and seed, ensuring that you have at least one plant growing in its first year and one flowering and self-seeding in its second year.
Parsley grows best in moist, well-drained soil and with full sun, although it can take partial shade. It is usually grown from seed, but germination is slow and erratic, so you may want to start with an established plant – just make sure it's in its first year so you get the full benefit of two years growth. Flowering parsley attracts bees and other nectar-feeding creatures, so is a great addition to draw beneficial insects into the garden.
Uses of Parsley
Parsley is used for its leaves, seeds and also roots. It is widely used as a garnish, with many dishes served with fresh green, chopped parsley sprinkled on top.
Parsley has far more uses than just being a decorative garnish that accompanies restaurant meals. It is actually a storehouse of nutrients including vitamin A, vitamin C, vitamin K, iron and folate.
Apart from its delicious taste and healthy benefits, parsley was used by Europeans as an after-dinner breath cleanser. The high content of chlorophyll in parsley helps it act as a breath fresher and some research suggest that it can even counteract garlic breath!
Traditionally parsley has been used to treat stomach ailments and menstrual problems, arthritis and colic. Parsley is believed to maintain the elasticity of blood vessels, clean the blood and speed oxygen metabolism.
Varieties of parsley
The two main groups of parsley used as herbs are
curly leaf (Petroselinum crispum crispum) and
Italian, or flat leaf (P. crispum neapolitanum)
Of these, the Italian group more closely resembles the natural wild species. Flat-leaved parsley is preferred by some gardeners and cooks as it is said to be easier to cultivate, and has a stronger flavor. Curly leaf parsley is often thought to have a more decorative appearance for garnishes.
Hamburg Root parsley is the variety where the root is used in cooking, but I haven't come across this in Australia.
In the Kitchen
Parsley has a slightly lemony aroma and a light and fresh grassy green flavor. It is the perfect addition to many classic sauces, soups, stews, fish, meat, poultry, egg dishes, potatoes, salad and stuffing. Parsley is typically added toward the end of cooking at heat, because heat destroys the flavor. I put parsley into almost everything, and toss a healthy amount into most salads.
In southern and central Europe, parsley is part of bouquet garni, a bundle of fresh herbs used as an ingredient in stocks, soups, and sauces. Parsley is a key ingredient in several Middle Eastern salads such as tabbouleh. It is the main ingredient in Italian salsa verde, which is a mixed condiment of parsley, capers, anchovies, garlic, and bread soaked in vinegar.
A Few Quick Serving Ideas
Combine chopped parsley with bulgur wheat, chopped spring onions, mint leaves, lemon juice and olive oil to make the Middle Eastern classic dish, tabbouleh. For a gluten-free alternative, use quinoa instead of bulgur wheat. Simply cook the quinoa as normal, then cool before making the salad. A lovely addition is also chickpeas and tomato.
Add parsley to pesto sauce to add more texture to its green color.
Combine chopped parsley, garlic and lemon zest, and use it as a rub for chicken, lamb and beef.
Use parsley in soups and tomato sauces.
Serve a colorful salad of fennel, orange, cherry tomatoes, pumpkin seeds and parsley leaves.
Chopped parsley can be sprinkled on a host of different recipes, including salads, vegetable sautés and grilled fish.
Chop parsley and spring onions and cook with small pieces of Atlantic salmon rolled in dukkah.
Get some parsley growing today and enjoy it in so many ways.
Happy gardening and cooking,
Amanda
---