As for rosemary, I let it run all over my garden walls, not only because my bees love it but because it is the herb sacred to remembrance and to friendship, whence a sprig of it hath a dumb language
Sir Thomas Moore (1479 – 1535) British writer, statesman and philosopher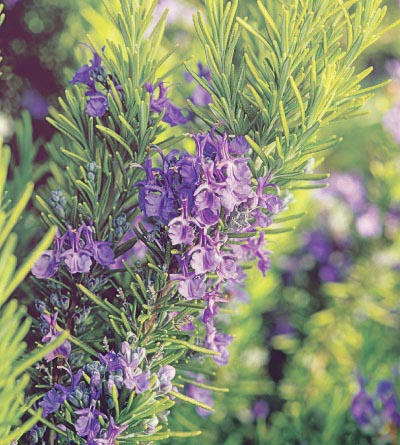 History
Rosemary has been prized for thousands of years for its fragrance, as well as its culinary and medicinal properties.The Latin name, Rosmarinus officinalis, means 'dew of the sea', but one legend says that the Virgin Mary spread her cloak over a rosemary bush while she was resting. The flowers turned blue like her cloak, and the bush was known from then on as the 'Rose of Mary'. In old England, rosemary became an emblem of love, fidelity and remembrance in literature and folklore.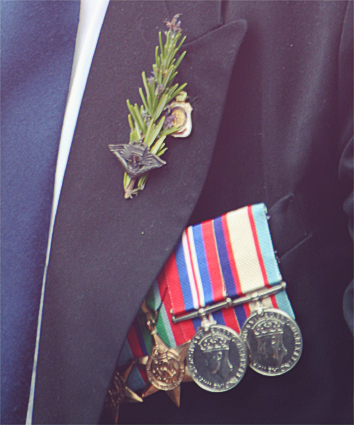 Rosemary oil was first extracted in the 14th century, after which it was used to make Queen of Hungary water, a very popular cosmetic and perfume. By the 16th and 17th centuries, rosemary had become popular as a digestive aid and remedy for migraine, joint disorders, and muscle aches. It was also used to dispel nightmares and evil spirits in the cleansing sacred spaces.
Rosemary has particular significance for Australians, as it is found growing wild on the Gallipoli peninsula, and sprigs of rosemary are worn on Anzac Day.
Notwithstanding its rich history and meaning, Rosemary is definitely unforgettable, with its unique pine-like fragrant flavor and pungency that evokes both the forest and the sea.
Health benefits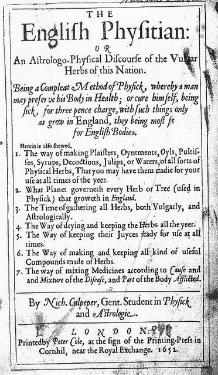 Recently, modern research has focused on the beneficial active components in rosemary, indicating substances that are useful for stimulating the immune system, increasing circulation, and improving digestion. Rosemary also contains anti-inflammatory compounds that may make it useful for reducing the severity of asthma attacks. In addition, rosemary has been shown to increase the blood flow to the head and brain, improving concentration. So as the ancients believed, Rosemary may yet be shown to improve memory!
In the Garden
Rosemary is native to the Mediterranean region, but is now grown through most of the temperate areas of the world. It belongs to the Labiatae family and is related to mint, lavender, sage and many other herbs. Its leaves look like flat pine-tree needles; deep green in color on top and silver-white on their underside. It is compact and evergreen, with clusters of flowers and leaves that yield a fragrant essential oil used in making perfume and to flavor food.
What many people do not know is that there are now over a dozen varieties of Rosemary, so there is one for every garden situation. All varieties of the Rosemary family are hardy and waterwise, and flower profusely. The great news is that all of them can be used for their scented leaves and flowers.
Here are four of my favorites which will give you variety of form and color in your garden:
Upright varieties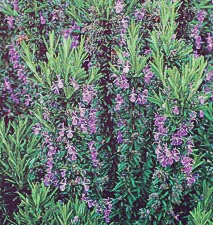 Rosmarinus 'Tuscan Blue'
Tuscan Blue rosemary
An upright form of rosemary with bright blue flowers in spring and summer. Great as a hedge.
Height: 1 m Width: 1 m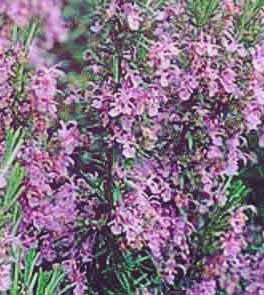 Rosmarinus officinalis 'Rosea'
Pink rosemary
Larger than the other types of rosemary, this is an upright variety with pink or mauve flowers in spring and autumn.
Height: 1.5 m Width: 1 m
Groundcover from 30cm to 80cm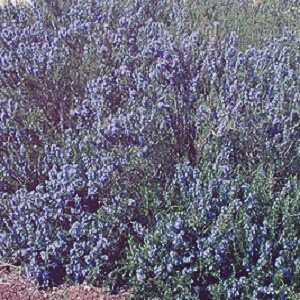 Rosmarinus 'Blue Lagoon'
Blue Lagoon rosemary
A groundcover/shrub rosemary with fragrant foliage and dark blue flowers in winter/spring.
Height: 30 – 80 cm Width: 1 m
Prostrate variety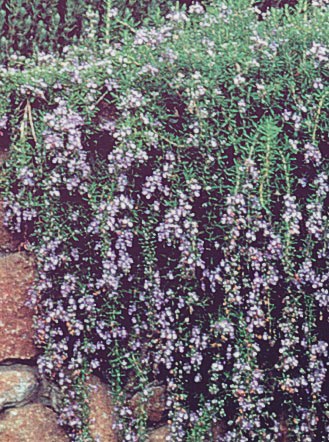 Rosmarinus prostratus 'Irene'
Creeping Rosemary
Prostrate groundcover rosemary with fragrant dark green foliage and bright blue flowers in winter/spring. Can be used as a herb. Prune hard to encourage bushy growth.
Height: 30 cm Width: 1 m
Growing Rosemary
Rosemary can be grown from seed or cuttings, although cuttings are essential when propagating named varieties if you want them to be true to type. The groundcover varieties will often send out little roots which will look for soil to grow into, so encouraging these will give you new plants.In the garden, Rosemary likes lots of sun and free draining soil. It isn't too fussy, but will enjoy fertilizing and mulching in spring and autumn. Rosemary can be cut back quite hard at the end of flowering, although if the plant is a few years old, take care not to prune back to too much old wood.They are also great plants for growing in containers, and the different forms can be used to advantage in all shapes and sizes of pots. Just ensure that the plant has good soil, drainage and moisture.
Rosemary is also a lovely addition to the vegie patch. It is a companion plant for cabbage, beans, and carrots and growing it near them helps to protect against certain pests. It is also wonderful for attracting bees and other beneficial insects to the garden.
In the kitchen
Rosemary's memorable scent, flavor and unique health benefits makes it an indispensable herb for every kitchen. It has a powerful and complex fragrance that should be used with care. However it adds elegance, mystery and just a hint of spice to an array of culinary delights.
It is commonly used in French and Italian food, especially as a component of herbes de Provence (a traditional herb mix of rosemary, marjoram, basil, bay leaf, thyme and sometimes lavender flowers).
For my taste, Rosemary is especially useful in winter, as flavoring for hearty soups, roasts and slow cooked dishes.
Here are a few serving ideas:
Rosemary is famous for pairing with lamb, and adds a pungent depth to the flavor. Cut finely and sprinkle over the meat or cut strips in a roast and stud with garlic and small stalks of rosemary.
Add finely chopped rosemary to sauces and gravy.
Drizzle olive oil, garlic and rosemary over roasted vegetables and cook slowly in the oven.
Add rosemary, dried apricots and macadamia nuts to stuffing when seasoning a roast chicken.
Rosemary is a marvelous addition to tomato sauces and soups.
Use Rosemary pieces instead of skewers to make tasty lamb or vegetable kebabs.
Make rosemary tea by pouring boiling water over a small bunch of rosemary and enjoy.
Add fresh rosemary to omelets and frittata.
And of course it's an essential ingredient of my super easy homemade pasta sauce (click here to see it), combined with marjoram, thyme, basil, parsley and lots of garlic!
Just a couple of suggestions when using Rosemary:
If you're planning to leave the rosemary in the finished dish, chop it very finely so you don't get any twigs in your mouthful!
Dried rosemary is more powerful than fresh, so modify recipes as necessary, and use dried rosemary with care.
I hope I have inspired you to plant Rosemary in your garden and use it creatively in your cooking!
Happy gardening,
Amanda